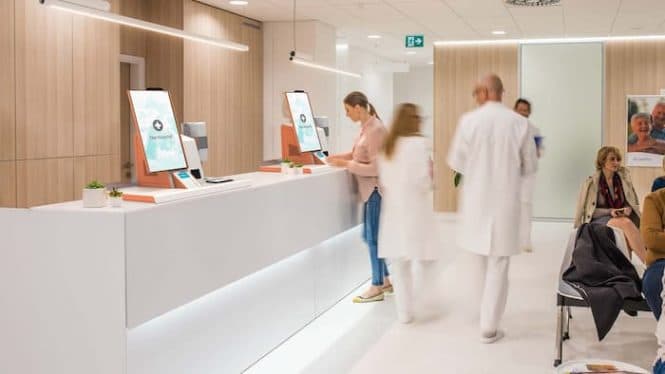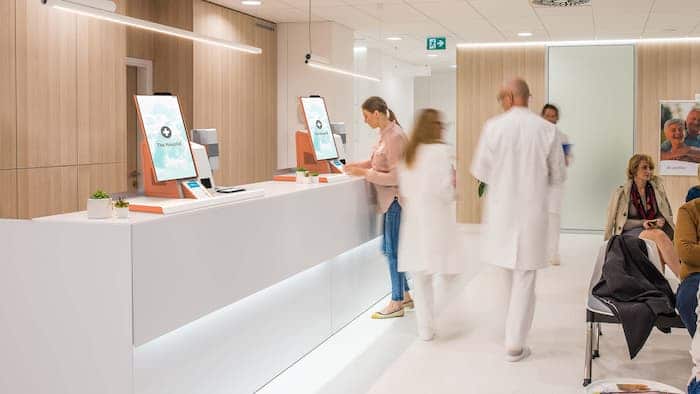 Source url on Pyramid
POLYTOUCH® FLEX 21.5 Healthcare Kiosk
Our FLEX 21.5 Healthcare covers patient management with check-in and check-out handling, patient routing in medical facilities and queue management applications.
With our FLEX Healthcare, we offer hospitals, doctors' offices, rehabilitation centers, pharmacies and other medical care facilities a professional and reliable digital solution with an appealing and user-friendly design.
The FLEX Healthcare is modularly adaptable and can be easily integrated into the existing EHR or HIS. Market ready for your use case, our Flex is the first choice for the successful digitization of your point of care. With its easy and intuitive usability, you create a digital interface to your patients.\
It enables your site to get help quickly, reliably and contactless. In addition, you relieve your staff of administrative workload and enable streamlined flows.
Digital Healthcare Kiosks
The demands of health care facilities are changing rapidly. With continuous digitalization, the goal is to facilitate processes both for staff and patients, while allowing data to be transmitted fast and safely. With our FLEX 21.5 HEALTHCARE, we want to actively promote these developments – and contribute to sophisticated future concepts for medical facilities.
Digital Pharmacy Kiosks
More and more people are getting used to the benefits of using technology in their everyday lives and expect benefits such as personalization and convenience in healthcare as well. The evolution of the healthcare system is increasing the pressure to embrace digitization, enabling better service and streamlined management. These digital technologies will be crucial for shaping the Journey for a better informed, curious and proactive customer at the point of contact. Be part of the wave and enhance customer experiences in your pharmacy. Contact us now!
Contact [email protected] to be contacted