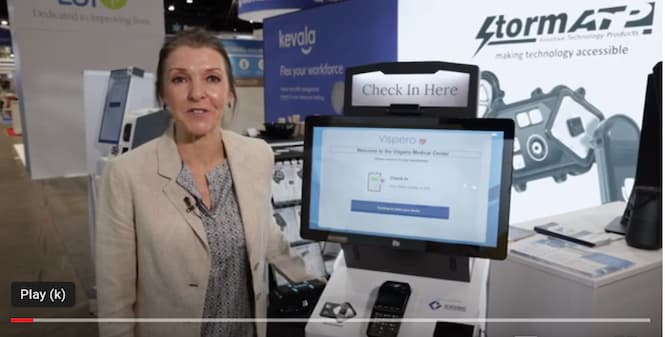 Healthcare Kiosk Demo
Published on Healthcareittoday.com – Author John Lynn
In Brief
Nicky Shaw US Operations Manager at Storm Interface  does the demo
demonstration of accessibility device as part of check-in kiosk
Inability to use the touchscreen is the benefit
Kiosk has an Storm Audiopad installed on kiosk by Kiosk Innovations with screenreader software by Vispero (JAWS Kiosk)
Audio and Tactility are the key features
Demo done at HIMSS 2024
A second kiosk by Pyramid America part of demo
Excerpt:
One of the most interesting opportunities at the HIMSS annual conference is the chance to see demos of a wide variety of health IT solutions.  At this year's event, we decided to film a number of demos of interesting health IT products that we thought readers of Healthcare IT Today would find useful.  If you want to see all of these demos as we share them, be sure to subscribe to the Healthcare IT Today YouTube channel.
The first demo I'm excited to share is by Nicky Shaw, US Operations Manager at Storm Interface.  Shaw demonstrates how you can take a healthcare kiosk and make it accessible for those who may have visual or other impairments.
Listen and subscribe to the Healthcare IT Today Interviews Podcast to hear all the latest insights from experts in healthcare IT.
Video Demo
---
More Posts