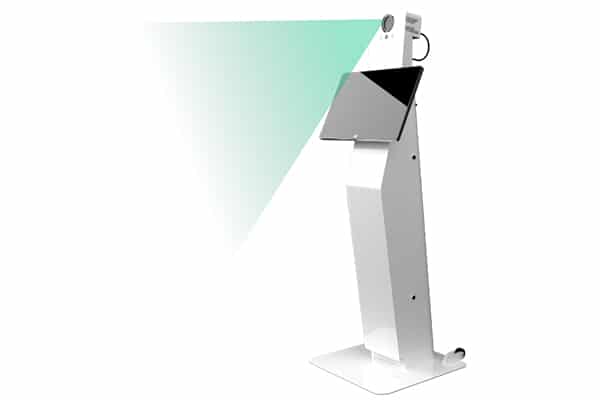 Smart Vitals Kiosk News
From Yahoo Finance
Las Vegas, Nevada., Jan. 05, 2022 (GLOBE NEWSWIRE) — Draganfly Inc. (NASDAQ: DPRO) (CSE: DPRO) (FSE: 3U8) ("Draganfly" or the "Company"), an award-winning, industry-leading drone solutions and systems developer, is pleased to announce the release of the Company's new Vital Intelligence Smart Vital Kiosk (the "Kiosk").
Powered by Draganfly's groundbreaking AI Vital Intelligence platform, the Kiosk can screen, with voluntary consent, temperature, blood pressure, heart rate, respiratory rate, and oxygen saturation (SpO2) in seconds. The system does not register any personal data of the individual being screened.
Draganfly's Smart Vital system is part of the Company's Vital Intelligence health and safety solution, which is able to screen, detect, assess, protect and provide continuous action against the potential threat of infectious diseases, including COVID-19.
Featuring a highly customizable camera configuration, the Kiosk can effectively meet the needs of specific events. Accessories such as QR and IR code readers can be incorporated to provide seamless integration with vaccine passports, security badges and other ticketing systems.
The Kiosk's 22" LCD screen is compliant with the Americans with Disabilities Act (ADA) and it's Forward Looking InfraRed (FLIR) thermal camera adheres to the guidelines set by the Food and Drug Administration (FDA). Designed to be versatile, the Kiosk can be secured in a certain area or safely wheeled to a new location.
"We are committed to providing seamless and non-invasive solutions that allow organizations to host safe events and gatherings. Utilizing proprietary software built by Draganfly, the new Smart Vital Kiosk enables multi-dimensional screening of core vitals to provide real-time health insights in seconds," said Paul Mullen, Vice President of Vital Intelligence at Draganfly.
"Draganfly's Vital Intelligence platform has been a game-changer for established brands such as the Drone Racing League, Alabama State University, Barrett-Jackson Auto Auctions and many more. Our new Smart Vital Kiosk is a massive step towards ensuring that people always feel safe and confident wherever they are," said Cameron Chell, CEO of Draganfly.