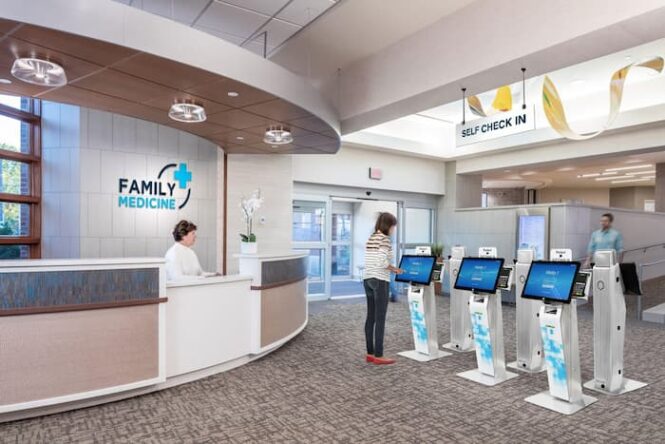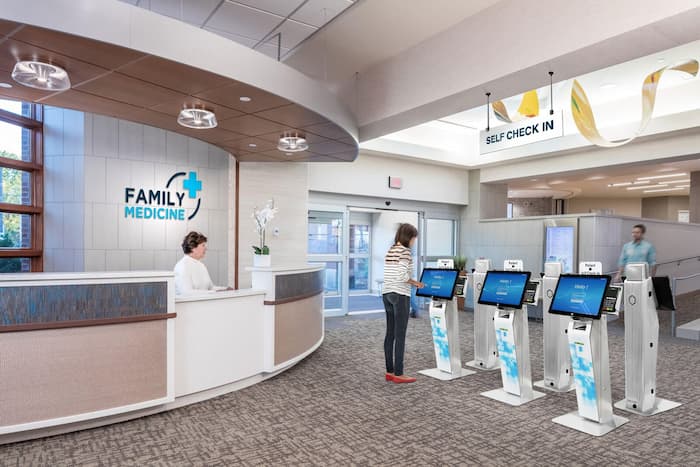 Patient Check-In Kiosks by Olea
Olea Kiosks is the largest provider of hospital and clinic patient check-in in the world.  Recently they updated their Healthcare page and we are including it below to help inform and educate on patient check-in kiosk. Visit the Olea Kiosks Healthcare page for more information.
Why Choose Olea Healthcare Kiosks?
Consumers are becoming more self-sufficient and empowered to access information wherever they are. At the same time, healthcare organizations are struggling to meet the increasing demands of their patients.
This is why many are turning to healthcare kiosks. The self service kiosk is a key piece of healthcare's digital transformation that will assist in enhancing productivity, check-in, and the overall patient experience. Healthcare kiosks are not only able to fulfill the customer's need for autonomy, but also decrease the effort administrative staff are required to invest in every patient check-in and interaction. Healthcare kiosks enhance the efficiency and care provided at your facility in many ways.
Most Common Kiosk Uses
Self service kiosks perform a variety of functions in healthcare, including the following:
Patient Check-in and Registration
Update personal data, scan and record insurance and ID cards
Fill out and update patient forms
Bill Collection
Patient Portal access to review tests and past visits
Telehealth services like monitoring, training, and healthcare education
Telemedicine services like management of chronic conditions and specialist consultations
Temperature Screening Kiosks for employees and patients
Wayfinding, maps, directions, and general information
Enhanced Privacy for Patients with a Self Service Kiosk
Privacy is crucial during the patient check-in process and throughout the patient journey. Surveys show that most patients actually prefer self service kiosk options because they experience reduced wait times, a simple and consistent check-in process, and there is also an increased sense of privacy with patient check-in.
The kiosk streamlines the path to be seen by the healthcare professionals and provides a variety of related services all in one place. The kiosk allows the patient to quickly check-in, dispense with the mechanics of the visit, and prepare to be treated.
Digital Transformation for a Better Patient Check-In Process
Improving the patient experience is essential to any healthcare organization. The most critical parts of any trip to a healthcare provider are the treatment and the check-in process that puts the patient in queue to be seen. Often, those needing to see a doctor or undergo tests are ill or in a state of stress in anticipation of the exam or procedure. The patient check-in process should be as non-taxing and simple as possible, and the healthcare kiosk delivers this and more.
When a patient enters your healthcare clinic, office, lab, or medical facility, they come to the front desk first. With self-service check-in, their first stop will be the kiosk instead.  They will be able to perform any check-in task they would have otherwise performed at the front desk. From scanning ID cards and insurance cards to updating personal information, check-in is simplified and hassle-free.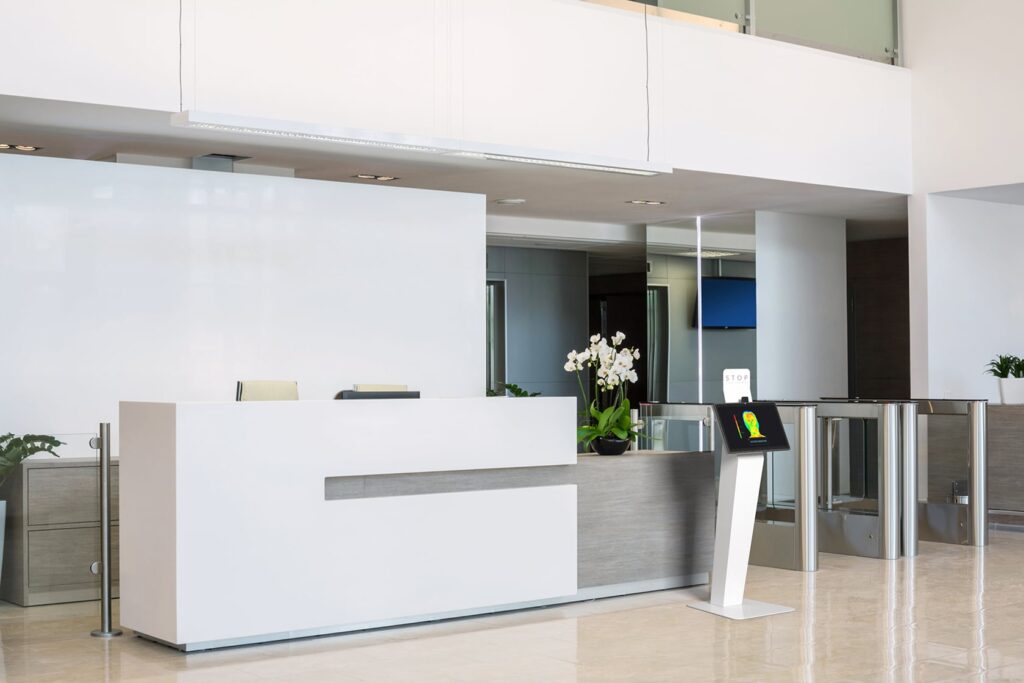 Features of the kiosk check-in process include:
Patients or their caregivers enter basic information on a touchscreen
Co-payments can be collected at the kiosk, or current balances remunerated
Scanners can reader driver's licenses and insurance cards
All the while, staff who are no longer responsible for checking in patients can provide other services to further enrich or expedite the entire experience of their visit
How Kiosks Benefit Employees and Patients
Not only does self check-in enhance the customer experience for patients, but it also improves employee satisfaction. A self service kiosk frees up employees to focus on what's really important – patient care and satisfaction. This includes more time to focus on greeting patients, answering questions, completing paperwork, processing insurance information, answering phones, and scheduling appointments.
With a kiosk solution, your team will have more time to finish the tasks that deliver optimal care and a better patient experience, which leads to increased accuracy, reduction in errors, and less time spent trying to catch up. This all leads to increased employee satisfaction simply by leveraging the convenience of a kiosk.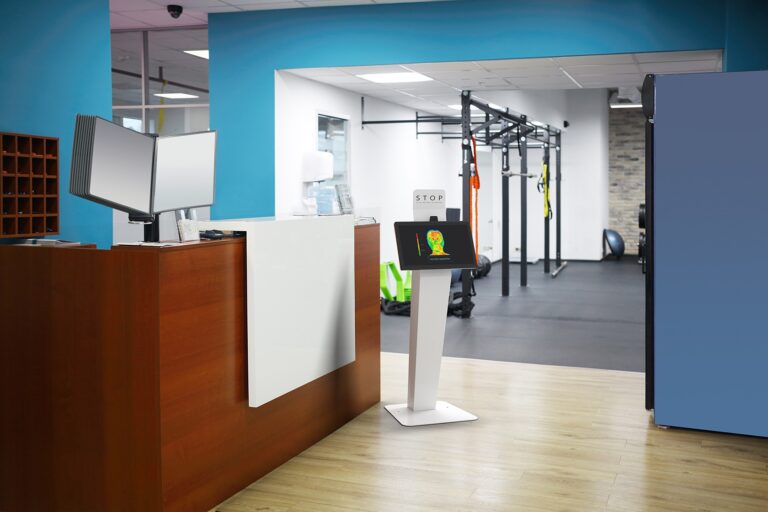 Temperature Screening Kiosks Reduce Your Risk
Using a kiosk to conduct temperature checks on employees and visitors prior to entering the building allows healthcare facilities to minimize the risk to employees, patients, and their facilities. Temperature screening kiosks can help stem a crisis and optimize your ability to continue servicing your community.
With aesthetically pleasing design, robust construction, and contactless operation, temperature screening kiosks let your employees and patients know you are doing all you can to protect them.
Benefits of Olea's temperature screening kiosks include:
Reduces the risk of access by infected visitors and patients
Maintains a safer patient check-in and facility environment
Facilitates a safer and more efficient process than using a human resource to screen temperatures
Minimizes stress and anxiety for employees and guests during check-in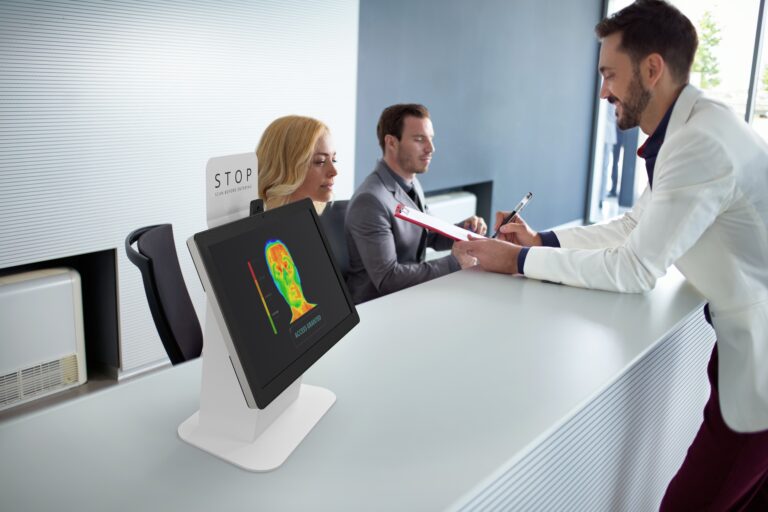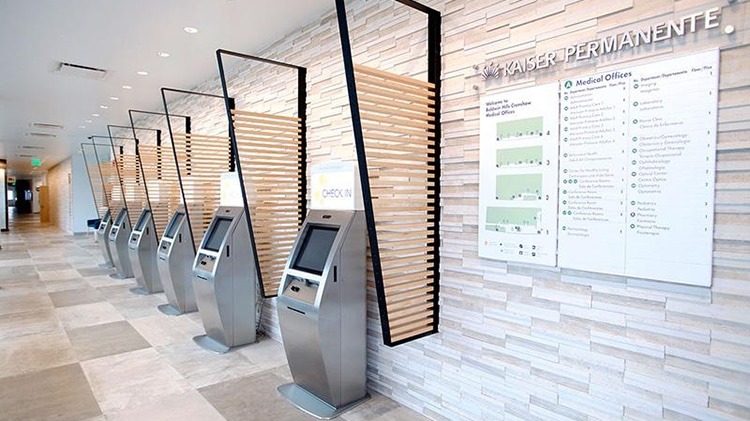 Take Your Care to the Next Level with Healthcare Kiosks
Improving the patient experience is the top priority of a healthcare facility. This goes above and beyond the care they receive by the medical staff and extends to all areas of customer satisfaction. A visit to a healthcare professional is stressful enough. The simplest part of the visit should remain just that: simple. And a kiosk makes it happen.
Check-in and telemedicine kiosks are an effective way to boost your services, increase revenue, reduce wait time, streamline records and patient information gathering, and give your staff more time to perform the tasks that are most important. It's time to take your care to the next level with the right healthcare kiosks for your facility.
Achieve a Seamless Patient Journey with Self Service Kiosks
The patient journey should be as frictionless as possible. In order to deliver that experience, there has to be close collaboration between the physical and digital channels along with innovation in building omnichannel capabilities. Whether the person is interacting with you from a desktop or mobile device, by kiosk, telephone, or a brick-and-mortar point, it must be seamless.
Patients want healthcare providers to consider the following ways of enhancing convenience:
Minimize waiting times
Manage queues/wait time effectively
Reduce ambiguity–explain exactly what they need to do next at all points in their patient check-in and overall journey
Make their time investment feel worth it
The smart use of self service kiosks is also designed to speed up otherwise labor-intensive aspects of the patient journey and helps to remove other inefficiencies to benefit both the patient and your healthcare organization.
Self Service Kiosk That Matches Your Brand
Today, the standard designs available for the self service kiosk can be highly customized to showcase your brand. Whether indoor or outdoor, custom kiosk design is one of Olea's core capabilities. Show your patients just how important they are with a custom kiosk design that leverages technology to enhance the patient experience.
Olea has the self-service applications your Healthcare facility needs to
enhance the patient experience and the bottom line.
We've worked with many fine Healthcare providers and partners.