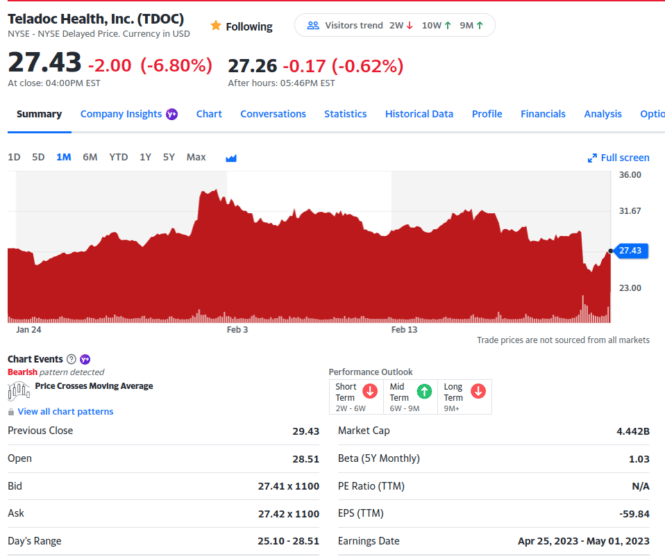 Teladoc Telehealth News
Teladoc said fourth-quarter revenue increased 15% year-over-year to $637.71 million, which beat average analyst estimates of $633.65 million, according to Benzinga Pro. The company reported quarterly earnings of $23.49 per share due to non-cash goodwill impairment charges of $23.26 per share.
Excluding the impairment charge, Teladoc's net loss came in at 23 cents per share versus consensus estimates for a loss of 25 cents per share.
"Despite a challenging macro environment, we were able to expand our product offerings and enhance the level of care delivered across our integrated whole-person platform," said Jason Gorevic, CEO of Teladoc Health.
All in all it was a bit of OMG kneejerk headline for basically pretty good news. Teladoc has been around 30 for stock share price (after hitting 34 in early Feb)  and the loss knocked it down 10% to 25.  It has recovered since back to 27.43 on 2/23
Teladoc Health reported a historic net loss in 2022 of $13.7 billion off revenue of $2.4 billion, mostly from an impairment charge related to the shrinking value of its Livongo acquisition. By comparison, the virtual care company reported a loss of $429 million in 2021.
The non-cash goodwill impairment charge of $13.4 billion reported over the past year reflects the waning market value of Teladoc's $18.5 billion acquisition of chronic care company Livongo in late 2020. The impairment charge doesn't impact the company's financial position or its ability to invest in the business going forward, CFO Mala Murphy said on a call with investors Wednesday.
The New York-based telemedicine vendor beat Wall Street expectations for revenue but missed on earnings in fourth-quarter earnings released aftermarket Wednesday. Teladoc also issued 2023 guidance below analyst consensus, causing stock to slide in morning trading Thursday.