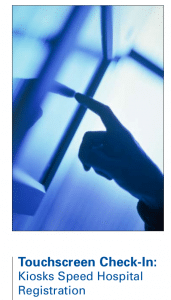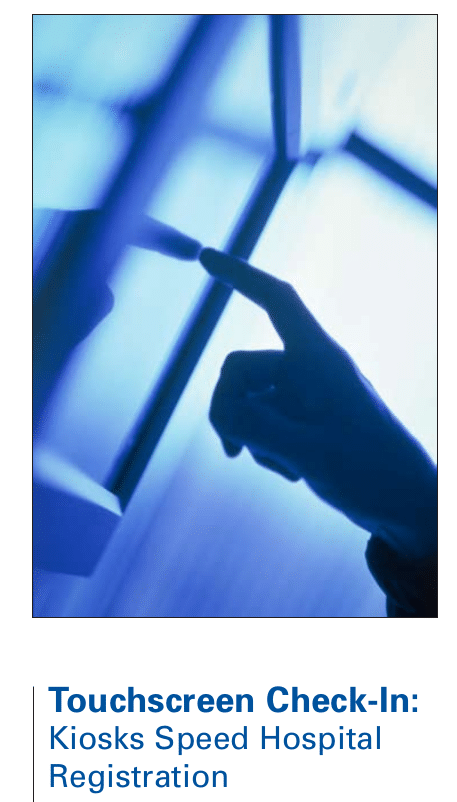 Excerpts from the California Health Foundation paper on check-in kiosk benefits. A PDF is included at the end for download.
For this research, interviews were conducted with several health delivery organizations that are leading the way on the implementation and use of kiosks. The following case summaries demonstrate the wide variety of uses and benefits available to organizations that employ this technology.
 CASE STUDY #1 
Basic Check-In and Payments
Kaiser Permanente
 Objectives
Kaiser Permanente (KP) is a large, nonprofit, integrated health plan based in Oakland, California. Through its Kaiser Foundation Hospitals and their subsidiaries, KP serves about 8.7 million members in nine states and the District of Columbia, including a sizable presence in the Southern California (SCAL) region . Two years ago, as part of an initiative to design the "Front Office of the Future," KP SCAL began looking at kiosks as a way to enhance ambulatory services. They developed a vision that would use kiosk-based self-service as a complement to KP HealthConnect, the name of the organization's electronic health record system.
Prior to rolling out kiosks at a number of their SCAL facilities, KP offered a traditional check-in experience in which members lined up at the receptionist's desk to check in. Changes to demographic information were communicated verbally, and co-pays were collected at the window. The process was not marked by any major breakdowns, but occasionally long lines would form during peak hours of operation, or if one member required special attention for questions or complex transactions. The verbal communications sometimes led to misspellings or other data entry errors, and co-pays were not always collected reliably.Also, traditional face-to-face check-ins did not always work well for members who spoke little or no English.
Solution
In 2007, KP tested the available technologies and surveyed members on their willingness to use a kiosk. The organization worked extensively with hardware vendors to select the right enclosure and technical components, as well as with its own clinical software system vendor to ensure back-end integration with the registration, scheduling, billing, and reporting tools.
Positive feedback from members led to an expanded pilot project in June 2008.By the end of the year, about 100 self-service kiosks were deployed in 60 medical clinics, making Kaiser the largest user of health care check-in kiosks in the country.Kaiser has plans to roll out an additional 200 kiosks in 2009.
The kiosks are used by members to:
  Check-in for scheduled appointments;

  Update demographic information;

  Pay copay and deductible with a credit or debit card; and

  Receive wayfinding assistance for directions to their  appointment.
These functions account for the bulk of tasks and transactions that are typically performed through staff at the check-in counter. All of the tasks can be performed with the aid of language translation. Members can choose from one of six languages: English, Spanish, Chinese, Tagalog, Armenian, and Vietnamese.
Results
In 2007, a patient satisfaction survey was conducted. Patients who checked in with receptionists were interviewed to learn about their awareness level of the new self-service check-in option. Patients who checked in with a kiosk were asked about their experience using this tool. Member reactions to the KP Self-Service Kiosks were very positive. The vast majority of members who checked in using the kiosk had a successful experience, with over 75 percent of members feeling that checking in through the kiosk is faster than checking in through a receptionist.
About 60 percent of members report that the reason that they used the kiosk was because the line was shorter.More than 90 percent of members who used a kiosk to check in are able to do so successfully without needing any assistance, and the same number also report that they felt comfortable with the level of privacy offered by the kiosk.
Kiosk utilization numbers have not yet been baselined, as the focus in 2008 was to learn how to deploy and support kiosks across the KP Southern California region. Utilization is noticeably higher during peak hours, though, suggesting that the kiosks are fulfilling their role of providing additional capacity as needed.
Department administrators are also pleased with the kiosks. Before the introduction of the kiosks, members requiring special attention may not have received all the assistance they needed, as staff tried to check in members as quickly as possible in order
CASE STUDY #2 
Check-In and Payments, Forms,and Basic Scheduling
Vanderbilt University Medical Center
(NASHVILLE, TN)
Objectives
Vanderbilt University Medical Center (VUMC) is a comprehensive health care system, with dozens of hospitals and clinics, as well as schools of medicine and nursing. Vanderbilt clinics see more than 1.2 million patients per year across a full range of specialties, including: cancer; ear, nose and throat; gynecology; kidney disease; pulmonary disease; and urology.
In 2008, VUMC became interested in kiosks as a way to improve operations in three key areas: patient satisfaction, patient flow, and the satisfaction of patient service representatives (PSRs). During VUMC's expansion to new buildings in the Nashville area, officials sought technologies to maintain a high level of patient service and ensure that bottlenecks would not occur in the waiting rooms of new clinics.
Solution
First, VUMC worked with a kiosk hardware vendor to select the right enclosure and components. The vendor custom-designed the enclosures, installed the internal computers and external user interface components, and configured the drivers to ensure that everything within the kiosks worked properly.
Then VUMC worked with a software integrator to enable the kiosks to communicate with the clinics' systems. An interface was built to connect to VUMC's in house electronic medical record system (called StarPanel). Another interface was built to enable credit card processing through Vanderbilt's existing financial system.
In May 2008, VUMC began its pilot by installing kiosks in three areas that do not collect co-pays:
the preoperative evaluation clinic, the pediatric rehabilitation unit, and radiology.Initially, patients were able to use the kiosks only to check in.Staff greeters encouraged patients to try the kiosks and answered questions. After this rollout was deemed successful, VUMC expanded the scope and functionality of the pilot, deploying the kiosks to 11 more areas and permitting patients to use credit and debit cards to make payments for co-pays.
Results
The initial reaction of patients and PSRs to the kiosks was so positive that the wider second-phase deployment was started just five months later, in October 2008. VUMC is deploying kiosks to 20 of its ambulatory settings, including clinics in dermatology, surgical weight loss, and women's health, among others. Patients can check in and make payments via credit card and debit card, or they can select the "cash/check" button and pay at the receptionist's window after they have checked in.
Patients can also use the kiosks to read and sign forms, such as the HIPAA consent form and VUMC's standard consent-to-treatment form.
Patients simply review the form as they would on paper, and then use the electronic signature pad to give their signature (paper versions are always on hand if patients prefer not to use the kiosk) .
Additionally, patients can access their schedule of appointments, and view or print a summary of all of their future appointments. VUMC requires that the user answer a security question- birth date-in order to perform these transactions.
VUMC's own informal study of patient  feedback indicates that kiosks reduce lines and decrease the perceived. waiting time. In a sample of 465 timed kiosk check-ins, VUMC measured the average check-in time at two minutes, which staff members believe is at least as good as the total time waiting in line for a receptionist and then checking in with the receptionist. Utilization rose to 35 percent of check­ ins. In addition, staff members reported feeling better about spending more time with patients who have complicated questions or additional needs.
As VUMC continues to expand its ambulatory clinics, patient kiosks will be deployed to more locations and specialties. Additional functions are also being discussed, such as identifying a patient who is part of a research study, and the ability to handle Medicare secondary-payer claims more easily. VUMC has also explored the idea of introducing mobile kiosks to enable new patients to register and provide their full medical histories.
CASE STUDY #3
Check-In and Payments, Patient Feedback,and Reporting
Scott & White Hospital and Clinic
(TEMPLE, TX)
Objectives
Scott & White Clinic (S&W) is the largest multi­ specialty medical practice in Texas, and one of the largest in the United States. It has approximately 700 physicians spread over 30 locations in central Texas.
After changing its model from a "closed system" to accept a wider range of insurers, S&W found that it needed to perform far more eligibility checking and verification tasks than before. These additional processes increased the check-in time, causing patient queues to build up, occasionally even stretching out the door. In order to maintain its reputation for operating efficiency and community responsiveness, S&W began to look at solutions to increase patient satisfaction. 
Option #1 – overhaul the entire computer system, but this approach would take too long to implement. 
Option #2 –  redesign workflows, but administrators were not confident that this approach would provide enough of a benefit. A third option-to redesign the physical architecture of the clinics or construct a new building- was also briefly considered but dismissed due to cost.
Solution and Results
S&W ultimately turned to self-service kiosks as a means of improving patient check-in. They worked with a hardware vendor to supply a streamlined countertop kiosk outfitted with a mag-stripe reader, electronic signature pad, and integrated receipt printer.Then they worked with the vendor to integrate the kiosk with their practice management system.
S&W started with three kiosks to test user acceptance, and shortly thereafter deployed three more. Patient feedback during this period was 95 percent positive. Today, about ten kiosks are in use across three sites. More may be added, depending on capacity and demand patterns.
Using the kiosks, patients can check in by swiping a driver's license or entering their social security number. Then they verify their insurance information, and make a co-payment with a credit card or debit card. The system is custom-configured to print off arrival notices at the nurse's station automatically.Patients can also indicate whether they need any other printouts, such as a doctor's note.
These instructions are captured in the scheduling system and passed along to the appropriate caregiver.
S&W also takes  advantage of the opportunity that kiosks provide  to conduct real-time patient satisfaction surveys. Depending on patient volume, the system can be configured to prompt users to answer a few brief questions about their experience, such as "Was parking adequate for you today?" and "Is the building clean?" Questionnaires are kept very short in order to allow people to conduct their business and move on, but nevertheless the feedback provided is valuable to S&W and can be reviewed as often as desired.
S&W also makes use of a number of metrics and reporting capabilities, including daily and monthly counters for check-ins, co-payment tallies, time-to­ check-in, and percentage of successful check-ins. For example, early in the deployment, the organization found that two kiosks in one location logged 1,872 check-ins over a two-month period (about 20 check­ ins per kiosk per day). Currently, each kiosk handles between 50 and 110 patients per day. Average check­ in times range from one to two minutes, depending on the location and configuration. By comparing the number of kiosk check-ins to traditional check-ins, S&W estimated that about 25 percent of visiting patients use a kiosk. Patients report liking the kiosks for two reasons: (1) faster check-in/no waiting in lines; and (2) enhanced privacy and confidentiality.
Each kiosk handles between 50 and 110 patients per day. Average check-in time ranges from  one to two minutes.
Although the purpose of the kiosks is not to eliminate staff, S&W estimates that one kiosk can handle approximately one-half of a receptionist FTE (in terms of check-ins). In effect, each two kiosks that are deployed free up a person to resolve more complex issues relating to check-ins and insurance questions, or to spend more time with patients as they check in-particularly if they require referrals or would like to set up future appointments.
With an acquisition cost of about $12,000 per kiosk, plus $350 for annual maintenance, S&W's total five-year cost of ownership has been under $15,000 per kiosk. A basic cost-benefit analysis estimated that the average cost of a check-in with a kiosk is between  $0.74 and $1.12, compared to $8.12 per check-in through an office clerk. In addition, although the kiosks cannot perform all of the duties of an office clerk, the kiosks have been shown to collect more co-pays than the average clerk.
Finally, S&W has found that the kiosks have essentially no impact on the information technology department, once the initial setup and configuration is complete. As is the case with most kiosk vendors, the annual maintenance fee paid by S&W covers all of the routine issues that arise.
CASE STUDY #4
Kiosks for Check-In and Triage in the ED Setting
Newark Beth Israel Medical Center (NEWARK, NJ)
Objectives
Newark Beth Israel Medical Center (NBIMC) is a 673-bed regional teaching hospital and affiliate of the Saint Barnabas Health Care System. With more than 100,000 patients per year, NBIMC is a major referral and treatment center for the northern New Jersey metropolitan area.
In 2005, Newark Beth Israel became an early adopter of patient self-service kiosks, deploying several units across selected hospital departments, including oncology, pre-admission testing, same-day surgery, and the adult and pediatric clinics. Patients and staff reacted so positively to the convenience and efficiency offered by the kiosks, that the organization began to look for new opportunities to use the technology.
Solution
After two years of experience with the kiosks for basic check-in and wayfinding, NBIMC expanded the program to the emergency department, which had been using an inefficient pen-and-paper system that was slow and led to long lines. In an urban setting with many patients dependent on public transportation, it was not uncommon, for instance, for the 11:30 a.m. bus to drop off 15 patients at once, creating an instant backlog. Sometimes waiting times for check-in stretched to nearly an hour and a half, contributing significantly to low patient satisfaction ratings and low Press Ganey scores.
NBIMC worked with an established kiosk vendor to select components- three wall­ mounted kiosks-which were installed in the ED in November 2007. The units have a 15-inch touchscreen display and are placed inside wooden carrels to provide privacy for patients. Three mobile kiosks are also kept on hand for use by the ED hospitality officer or waiting room technician, or to hand to patients who arrive in a wheelchair. (For emergency department settings, NBIMC's vendor recommends approximately one kiosk per 25,000 patients per year. Between the wall-mounted kiosks and the less-used mobile ones, NBIMC meets this ratio.)
Prominent signage helps guide patients to the registration kiosks as they arrive at the ED. Patients with serious emergencies are rushed to treatment areas, but other patients may use one of the kiosks as an alternative to waiting in line to check in with a staff member. The kiosks are configured to perform "registration lite," meaning that patients answer a few basic demographic and health questions, but are not required to enter a detailed medical history. Repeat visitors can swipe a credit card to populate the standard fields such as first name, last name, date of birth, sex, and zip code.New patients simply type in this information using the onscreen keyboard.
The screening questions that appear arc adaptable based on the answers provided .For example, a female patient between the ages of 12 and 55 would be asked if she is pregnant . If she answers yes, the kiosk asks if she is less than 20 weeks into her pregnancy, more than 20 weeks, or in active labor. Other screening questions ask about diabetes and allergies to medications. The final screening question is an all-purpose "complaint field" composed of a grid of 18 different conditions. Eight of these are red-flag indicators, including chest pain, shortness of breath, blood-borne exposure, fever and/or chills, and homicidal ideation.
 The kiosks are configured to perform "registration lite" meaning that patients answer a few basic questions, but are not required to enter a detailed medical history.
After the information is collected at the kiosk, it is sent to a back-end system monitored by the triage nurse. As yet, NBIMC has not implemented a direct interface between the ED registration kiosks and the documentation system. Therefore, the nurse manually re-enters the data along with his or her evaluation. Since both systems can be accessed via the same computer, transposing the information is usually only a matter of copying it from one window to another- a process that is at least more efficient than traditional pen and paper.
Results
Nurses can now perform triage more quickly than before, allowing caregivers to provide patients with faster treatment based on medical need. Once the information is in the system, the nurse can print out a face sheet with demographic information , and can look up medical record numbers and patient numbers. Within the first day of implementation , the number of triaged patients seen rose from six to ten patients per hour.
Patient feedback has been almost entirely positive.
Waiting lines to check in at the ED have essentially disappeared, and some patients commented that the kiosks also make the ED experience less stressful. The average waiting time has been reduced by one hour. The department saw an immediate increase in Press Ganey patient satisfaction ratings from 74 percent to 77 percent. Perhaps most revealing, the number of patients who left the ED without being seen dropped 13 percent despite an overall increase in volume of 8 percent.For a total investment of under $100,000 for six devices and all the necessary software and integration, NBIMC is now able to serve more ED patients at a higher level of service than before.
As ED utilization continues to rise, NBIMC plans to refine its triage kiosks program and make use of new features as they become available from the software vendor. Reporting capabilities, for instance, currently include average check-in time, wait time to be seen, and average triage time. New functionality will continue to be introduced as more hospitals express interest in kiosks and vendors catch up with the needs of leading organizations.
CHF Case Study Patient Check-in CONCLUSIONS: 
Kiosks are a relatively simple and inexpensive way to introduce the patient self-service concept to the ambulatory office or emergency department. Patients benefit from enhanced convenience and shoner waiting lines, and staff members benefit from spending less time on routine administrative tasks and more time with patients who need their assistance. Kiosks benefit the organization as a whole through improved patient satisfaction scores and greater operational efficiency.Moreover, these enhancements  frequently have a "halo effect," helping to create a positive atmosphere for patients, staff, and providers.
Adoption of patient kiosks will continue to increase until kiosks become a mainstream technology. The physical design of kiosks has reached maturity and is not likely to change significantly.The originally segmented vendor landscape may continue to blend together as hardware specialists accumulate expense in software integration, and as combination hardware/software vendors reach out to more customers through competitive pricing.
The growth of check-in kiosks could also spur hospital interest in other self-service technologies. For example, there are kiosks that dispense medications to patients, which increases patient access and convenience. At Owatonna Hospital (Owatonna, MN) patients can get their emergency prescriptions filled without making a trip to the pharmacy.The kiosk is stocked with 40 to 60 of the most common acute-care drugs (no narcotics) and is accessible 24 hours a day, 365 days a year.
Kiosks can also be used as diagnostic health stations, where patients can get readings taken using the blood pressure cuff, pulse oximeter, weight scale, and body composition analyzer; they can then learn more about their health and what risk factors they might have. One cancer research program, run by the University of Georgia College of Pharmacy in conjunction with the American Cancer Society (ACS), placed several of these kiosks in local pharmacies and grocery stores in Georgia for use by the general public.
Here is Healthcare_2009_TouchscreenCheckInKiosks from California Health Foundation
More News