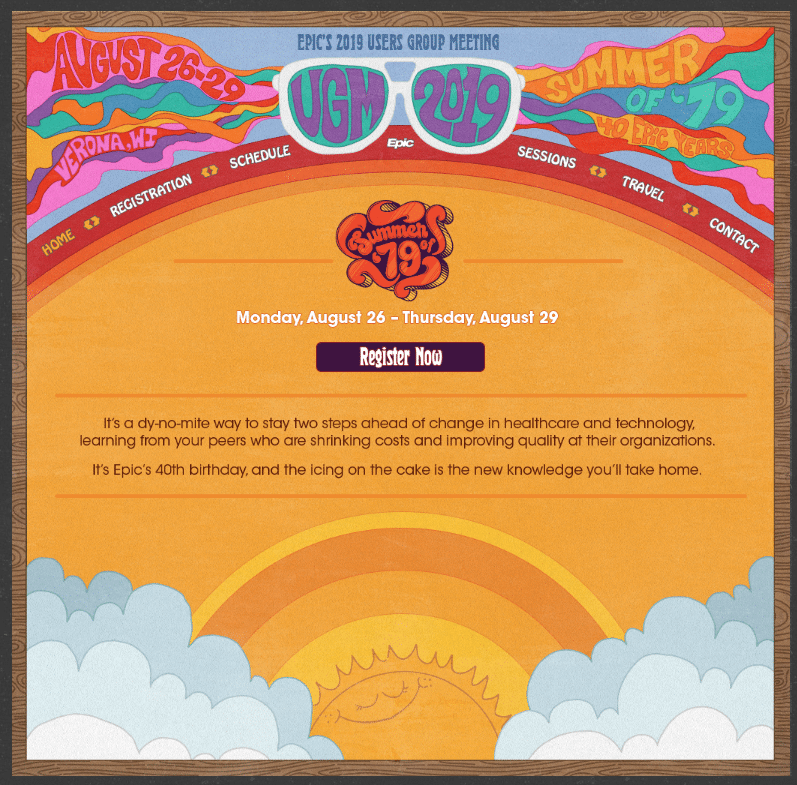 EPIC UGM 2019 User Conference
Epic UGM 2019 in Verona is coming up very soon!  This conference is for Users Only so you need to be an invited customer to attend.
It's Epic's 40th birthday this year, and they're celebrating with another exciting year of Epic UGM.
The conference begins on Monday, August 26th, and concludes on Thursday, August 29th. Just like previous years, the conference is taking place in Verona, Wisconsin at Epic's campus.
This year's theme is "Summer of '79", a marker of Epic's first year of service, exactly 40 years ago. Attendees will blast into the past with the theme and decor of the conference but will look to the future to learn about the changes coming to the healthcare technology industry.
Important Registration Dates:
Currently – Registration is open!
July 18th – Early bird registration ends
August 23rd – Standard registration ends
Epic UGM Schedule:
Sunday, August 25th – Taste of Epic and First-Time UGM Orientation
Monday, August 26th – Advisory Councils, CIO Morning Breakouts, CIO Roundtables, Legal Council, International Meetup, CEO Council Welcome Dinner, Legal Council Reception
Tuesday, August 27th – Executive Address & Cool Stuff Ahead, CEO Council, Executive Breakouts, Safety Forum, Peer to Peer Sessions, Cool Stuff Breakouts, Dinner & Celebration
Wednesday, August 28th – CEO Council, Peer to Peer Sessions, Cool Stuff Breakouts
Thursday, August 29th – Forums
Tips On Having An Epic Time As An Attendee:
Plan your agenda in advance to save yourself time (and from logistical headaches) during the week of the conference. And you find yourself packed with a back-to-back schedule, carve out time for networking and exploring the stunning Epic Campus.
Download the mobile app on Apple or Android to stay up-to-date on conference sessions and to save time finding colleagues onsite.
Make a point to strike up conversations with the presenters of presentations you found most compelling. This is a great way to network and to further absorb content!
The Sunday orientation session is a valuable time to gain information and tips for the upcoming days.
If you're a physician or pharmacist in need of continuing education credits, don't forget that many UGM sessions qualify for CME, CNE, and CPE credits.
Is it your first year attending Epic UGM? Coordinate your travel schedule so you can attend the First-Time UGM orientation session happening on Sunday, August 25, 2019.
Additional Links