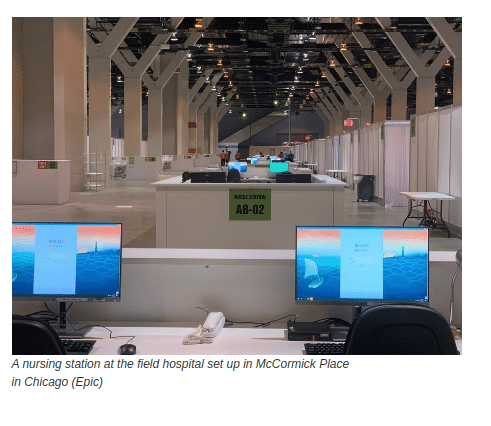 EHR Epic
full article at FierceHealthCare Apr2020 – by  Heather Landi |  
A typical hospital EHR project can take at least a year. A team at health IT giant Epic has been able to stand up technology at field hospitals in COVID hot spots in a matter of days.
In all, the Wisconsin-based EHR vendor has helped to bring online 440 alternative care facilities to help expand hospital capacity throughout the country in the past four weeks.
Epic
has worked with 175 health systems, public health authorities and state and local governments to add up to 80,000 beds nationwide.
The key is to get creative, Epic executive Nick Frenzer told FierceHealthcare.
How they did it
The company started by setting up a field hospital's electronic health record system using the customer's base implementation of the Epic EHR. For example, when setting up the field hospital at the Javits Center, Epic connected with NYC Health + Hospitals' EHR system. Clinicians also use Epic's interoperability platform, Care Everywhere, to access patient's information from different health systems.
"We try to make it as 'plug and play' as possible," Frenzer said.
Epic is providing the software, staff, and strategy for these projects at no cost. It partnered with tech giant Apple to provide some of the hardware that was needed for clinical staff such as laptops and iPads.
"We try to do as much as possible with mobile devices. We get a laptop and 30 phones and we can make that work," Frenzer said, adding they stood up special workflows and streamlined processes for clinicians. "We want to ensure that IT does not impede providing patient care."
Read full article at FierceHealthCare Apr2020